Choir Perform at Civic Service
Choir Perform at Civic Service
8 July 2019 (by Head Admin (headteacher))
AECPS choir performed at the Civic Service at St Phillips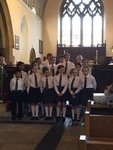 On Sunday 7th July, the school choir were asked to perform at the Alderley Edge Civic Service in St Phillip's church.
The children performed a beautiful rendition of 'I Am The Earth' which fitted perfectly with the message of a collective responsibility for the local community to look after our planet.
A huge thank you to all those children and their families who attended and supported this event.
Share this: