Year 5 Bridge Builders
Year 5 Bridge Builders
11 December 2020 (by Head Admin (headteacher))
Year 5 have been learning all about bridges as part of their topic on Revolutionary Railways.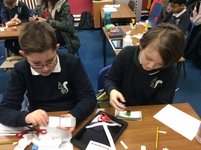 The year 5 children have learnt all about how to make and reinforce structures so they are strong and self supporting. They investigated bridges and created prototypes before using saws and glue guns to work with wood.
They applied their learning and created fabulous models from their designs having a lot of fun along the way!
Share this: