Ebony's Book is Published
Ebony's Book is Published
17 December 2020 (by Head Admin (headteacher))
Ebony in year 6 has always loved poetry and during the pandemic continued to perfect her talent.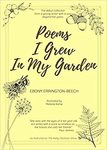 You may be aware from her work on the 'Poems for a Pandemic' project, Ebony has an immense talent for writing verse and during the lockdown was exceptionally busy, creating a brand new collection of twenty new pieces.
This week these new poems are being released as a brand new solo collection from Ebony - 'Poems I Grew in my Garden'.
Her book is available to buy from Amazon.
Share this: