Year 1 Travel Back in Time
Year 1 Travel Back in Time
5 February 2021 (by Head Admin (headteacher))
We can't go to Styal Mill but we can bring Victorian England to Year 1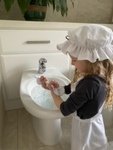 Year 1 have been learning all about what life was like for children in Victorian Britain and how the children were often used to do jobs instead of go to school.
Normally Year 1 travel to Styal Mill but this year this has not been possible so instead Miss Hilton organised a special Victorian day for the children remote learning and on site.
The Year 1 children at home and in school dressed in Victorian costumes and had to create a list of jobs they needed to do including making beds, washing the dishes, cleaning the floor and general chores. They then had to do the jobs and write diary entry from the point of view of a Victorian child.
Finally, they all had to make scones for the master of the house! A busy, fun-filled day!
Share this: