Welcome to the Wild West
Welcome to the Wild West
8 February 2021 (by Head Admin (headteacher))
Yahooo!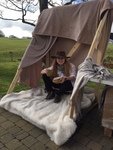 Yahooo!
The Year 5s ended their Wild West topic with a Wild West themed day.
They chose the characters they would like to be from the Wild West and then spent the day busily undertaking the different activities their character would have had to do.
They polished, cleaned, made bread, corn bread, designed, and sewed quilt squares as a settler. Made bows and arrows, medicine bags and totem poles as Native Americans, and learnt to line dance, use a lasso, cook and eat outdoors as cowboys.
What an amazing day partner…
Share this: