Year 4 Bake Off
Year 4 Bake Off
9 February 2021 (by Head Admin (headteacher))
Brilliant Bakers!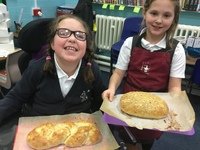 Year 4 looked at how to make bread for different purposes, whether it's for on-the-go breakfast or for a fancy dinner party.
Year 4 thought about the ingredients and design needed for their target market. At home and at school, the year 4s made their designs.They then tasted their bread and evaluated it - it was delicious!
Watch out Bake-Off - here we come!
Share this: