AECPS Awarded Primary Science Quality Mark
AECPS Awarded Primary Science Quality Mark
14 June 2021 (by Head Admin (headteacher))
We are delighted to be awarded recognition for high quality teaching and learning in science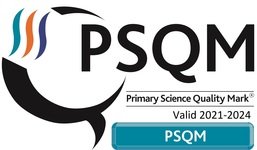 We are delighted to be awarded recognition for high quality teaching and learning in science.
Led by Mrs Metcalfe, AECPS is one of a small number of schools nationally to be recognised for our excellent work in science - a subject that is exceptionally important for our children in today's world.
The Primary School Quality Mark programme ensures effective leadership of science, enables schools to work together to share good practice and is supported by professional development led by local experts. It encourages teacher autonomy and innovation while at the same time offering a clear framework for development in science subject leadership, teaching and learning.
Schools that achieve PSQM demonstrate commitment and expertise in science leadership, teaching and learning.
Share this: