Bullying Prevention Week 15th - 19th Nov
Bullying Prevention Week 15th - 19th Nov
15 November 2021 (by Head Admin (headteacher))
One Kind Word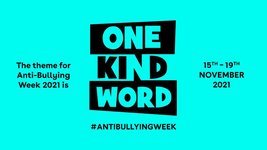 Bullying is never tolerated at AECPS and this week the children are spending time focusing on ways to prevent bullying and remembering what to do if they are being bullied.
Mrs Walsh started the week with an assembly linked to the importance of kindness following this years theme of One Kind Word.
The children will then be following this up in their classes and revisiting the strategies to use if they or someone they know is being bullied in the real world or online. The AECPS Safety Ambassadors will be sharing the children's version of the Bullying Prevention Policy with their classes.
Anti bullying week reminds us to focus on this important area but we regularly revisit bullying prevention, as keeping our children safe and happy at all times is imperative to us all in school.
Share this: