PSCO Visits School
PSCO Visits School
25 October 2018 (by Head Admin (headteacher))
PSCO Anna Jenkinson came into assembly to talk about safety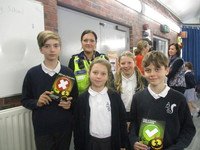 All of the children in school received a visit from PCSO Anna Jenkinson this morning, who came in to talk to them about safety over the Halloween and Bonfire Night period.
Anna discussed the importance of staying safe whilst having fun, and being mindful of those that do not always wish to celebrate the holidays.
By the end of the assembly the children were fantastic at remembering whilst out trick or treating they must always "Stop, look and listen" when crossing the road and that in the event of a fire accident they must "Stop, drop and roll".
The children were also reminded that in any emergency they should call "999" and the services will be there to help.
Share this: