Orienteering Teams Find Their Way
Orienteering Teams Find Their Way
23 May 2019 (by Head Admin (headteacher))
Two teams from yr4 and two teams from yr 5 took part in the MSSP orienteering event at Fallibroome High School.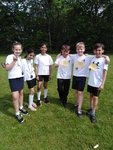 After learning how to correctly place the 'dibber' in the check point and studying the map the teams set off a different times to visit as many check points as they could in 15 minutes.
This is the first time that our school has entered this event and there was over 400 children taking part.
All 4 of our teams did really well, displaying great team work and cooperation. Well done to everyone who took part.