PSHE in School
PSHE in School
2 June 2019 (by Head Admin (headteacher))
Personal, social and health education in school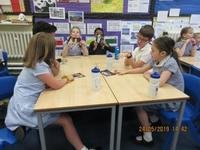 Personal, social and health education (PSHE) is an important part of our school curriculum. It is taught as a discrete subject as well as through other curriculum areas and on a less formal basis through how we behave and respect each other.
As part of a long standing, ongoing program, each year there are 3 dedicated SRE sessions (Sex and Relationship Education) where the children learn about growing up, how our bodies change, looking after our bodies and the importance of happy and healthy relationships. All the lessons are taught at an age-appropriate level. The 3 sessions have distinct themes:
families and care

keeping clean

growing and changing
More information is available from your class teacher or Mrs Walsh.
Share this: