Amelie Wins Constituency Prize
Amelie Wins Constituency Prize
19 July 2019 (by Head Admin (headteacher))
Esther McVey visited year 4 today to present award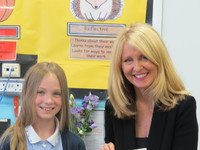 Earlier this year, year 4 entered a competition set by Esther McVey, MP for Tatton, to write about the person who inspired them the most. The entries were very varied from grandads to Prime Ministers such as Winston Churchill.
Amelie chose a leading professor from Cheshire who has been instrumental in the field of breast cancer.
The judging panel, consisting of Ms McVey and other local dignitaries judged all the entries from across the constituency.
All the year 4s were given a special House of Commons certificate and Amelie was awarded first prize for her age group.
Well done Amelie
.
Share this: