Summer Fun at The Squirrel Club
Summer Fun at The Squirrel Club
8 August 2019 (by Head Admin (headteacher))
The Squirrel Club is very popular this summer with a variety of fantastic activities planned.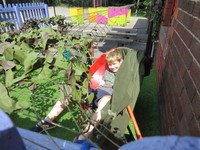 The children have had lots of fun with water fights, junk modelling and circus skills to name but a few!
There are a limited number of sessions available for anyone wishing to join in and take advantage of the excellent child care provided by The Squirrel Club staff. Please contact Mrs Share via bookings@aecps.org or on 01625 704513.
Share this: