Healthy Snacks
Healthy Snacks
1 September 2019 (by Head Admin (headteacher))
Remember - Treat Friday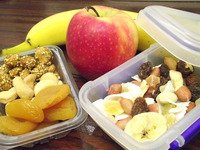 New Year - New Start
Please remember to send your child to school with a healthy snack such as fruit. If you would like your child to have a treat then send it in on Friday.
Please do not send in sweets as these are not considered a snack.
Toast is available at playtime from the school kitchen for years 1 - 6.