Fire Safety in Year 5
Fire Safety in Year 5
23 October 2019 (by Head Admin (headteacher))
Cheshire East Fire Service came to school to talk to the Year 5s about keeping safe in the event of a fire in their homes.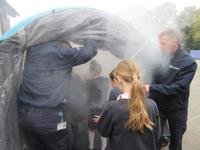 The children saw how a fire can spread in a matter of seconds and learnt how important it was to create an escape plan.
They also had the opportunity to experience what it would be like in a smoke filled room and now know to stay close to the floor where the air is easier to breathe.
Fingers crossed we never have to use our new knowledge and skills in a situation.
Share this: