Wonderful whole school harvest festival
Wonderful whole school harvest festival
25 October 2019 (by Head Admin (headteacher))
The whole school community joined together in a harvest celebration in St Phillips Church.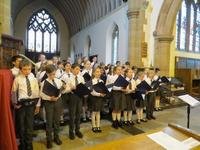 The friends and family were treated to a lovely harvest celebration.
The children performed poems, songs and dances to say thank you for all the food we have and the wonderful world we live in.
They all have made a big difference to the parents and teachers who were very proud of them all.
The collections of food items have been donated to the St Phillips' Food Bank to help those less fortunate in the Alderley Edge area.
Share this: