Keeping Safe with NSPCC
Keeping Safe with NSPCC
5 November 2019 (by Head Admin (headteacher))
The NSPCC visited school to deliver the message of Speak out. Stay safe.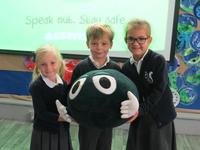 The NSPCC visited school to share their message about how children can keep themselves safe. The were introduced to Buddy who told the children to make sure they talk to a trusted adult if they need help.
The children were shown how to make a call to Childline if they needed to and how to speak out or to tell friend if they felt that things were making them feel upset or uncomfortable.
Buddy, the mascot, was on hand to reassure everyone that they were doing the right thing.
Share this: