Fantastic Athletes
Fantastic Athletes
7 November 2019 (by Head Admin (headteacher))
Year 5 and 6 Athletics Team Compete Brilliantly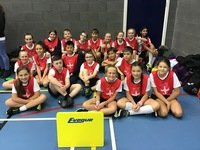 The yr 5/6 sportshall athletics team had a great afternoon at Wilmslow High School.
They competed in a variety of track and field events against 9 local primary schools. They produced some fantastic throws and jumps, as well as running some very fast races on the track.
The whole team showed great team spirit and sportsmanship, encouraging and congratulating each other in every event.
Overall the team came 4th. Well done to everyone who took part.
Share this: