2nd Week of Home Learning
2nd Week of Home Learning
8 April 2020 (by Head Admin (headteacher))
We are very proud of all our children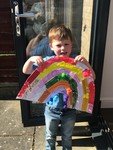 From the emails and feedback we can see how hard the children continued to work in week 2 of home learning. We are very proud of them all!
Its now the Easter holidays and time to relax a little and enjoy the sunshine. The staff certainly need a break!
We will be back with more home learning from 20th April. Until then you could try the 30 AECPS challenges to keep you from getting bored.
Share this: