Autumn Term 2
Year 6 sing to Residents at Holmfield, Alderley Edge
The Year 6 children sang for the residents of Holmfield Sheltered accommodation giving them the best Christmas of all - their time and their voices. Arthur (97 years old) thanked the children personally for bringing the spirit of Christmas to them. Some of the residents were brought to tears by the quality of the singing.
Father Christmas and his Elves visited School today
The children welcomed a very special visitor to school today!! Father Christmas took a morning out of his very busy schedule to say hello to the children and give them all a chocolate Santa on a stick.
Key Stage 2 Nativity
This was held in the Church of St Philip and St James in Alderley Edge. The packed Church of family and friends listened and watched an impressive Nativity and Carol Service.
Christmas Lunch
Always a popular day for the children (and staff - seeing the photos proves it!!). The children had a lovely Christmas lunch cooked by our new cook, Kim. The children were all given a Christmas cracker although some children didn't need their hats as they provided their own!!
This lunch followed the Infant Christmas Nativity which had taken place that morning. One Reception child remarked that this was the best day of her whole life. Ever!!!
We think that says it all
Foundation Stage and Key Stage 1 Nativity
The children's performance of the very first Christmas was a delightful event and the Nativity Service was watched by a packed audience of parents, friends and relatives in the school hall. There was a retiring collection in aid of Francis House Children's Hospice and we would like to thank parents for giving so generously.
Year 2 do Panto Maths
Following the Peter Pan Panto Year 2 have been helping the Lost Boys sort their Smarties. Each lost boy has a favourite colour smartie, but they've been arguing because they said there weren't the same amount of coloured smarties in their tubes.
The Year 2 investigated the problem in Maths, they sorted and grouped the smarties, created a tally chart and found out the fraction of each colour!
Peter Pan and Year 5
Year 5 were so inspired by their visit to the pantomime yesterday, that they decided to recreate some of the scenes in 3d, using the old computer boxes! Design Technology and recycling!
The Choir's Performance was again Outstanding!!
The School Choir sang at the Rotary Club of Alderley Edge and Bollin Valley's Carol Service at St Philip and St James Parish Church in Alderley Edge on Friday evening last week. The children's singing of 'Once in Royal David's City, Away in the Manger and In the Bleak Midwinter were all absolutely amazing especially the solo and small group performances by children in Year 6. The children were great but a huge amount of credit must go to Mrs Oduah and Miss Rose for preparing them so well. The children will be singing again at the School's KS2 Nativity on Thursday 17th December. Even if you do not have a KS2 child please feel free to come along and enjoy the service at St Philip and St James Parish Church which starts at 6.30pm.
Choir Perform at the Christmas Tree Festival (and on the high street!!)
Year 5 played the bells, the choir sang beautifully and the residents of the local nursing homes were seasonally entertained at the Methodist Church Christmas Tree Festival! They even sang all the way through the village too! Well done to Miss Rose and Mrs Oduah for preparing them so well.
Camilla and Elizabeth
These Year 5 girls have been rehearsing their pieces for the Methodist Church's Christmas Tree Festival event later today. Camilla is playing the flute and Elizabeth the clarinet - we hope you enjoy it.
Year 5 visit Jodrell Bank
Year 5 had an out of this world day at Jodrell Bank, learning about making a cargo land safely on Planet Mars to recreating craters! A fantastic day, great learning and great fun - what more could you want?
PTA Disco - What a night!!!
Another brilliant PTA disco was enjoyed by the children. They certainly danced the night away!! Many thanks to everyone who helped make this a great success.
Year 6 Build Rockets in Science
Year 6 have been looking at reversible and irreversible reactions as part of their Science topic of materials. They have looked at the effects of dissolving a Vitamin C tablet in water. They used this knowledge to try and make exploding rockets and experimented with the amount of water and tablets used. Some shot up into the sky whereas unfortunately others fell over or didn't explode properly!
NASA had the same problems when they started so hopefully the Year 6 will continue to experiment and improve their rockets before having another go!!
Road Safety Week (23rd to 27th November)
As part of Road Safety Week the Year 2's have been designing bike helmets to encourage children to use their bikes more, as this year's Road Safety motto is 'Drive Less, Live More!'
They looked at different ways to make them appealing, yet keep the rider safe, through adding flashing lights and reflective strips. It's hoped the Year 6s will choose an overall winning design.
As a link to their geography and road safety curriculum, the Year 5 used the ipads to find maps of our local area. They then sketched their own maps, adding detail, with particular reference to safe places to cross the road.
Anti-Bullying Week (16th - 20th November)
All classes focused on issues related to bullying recently. Samples of their work can be found below.
Reception class have sent Anti Bullying Week talking about the things they can do to be good friends to one another, and also discussing the behaviours that good friends do not do! They have made posters to display in the classroom.
Together the children in Year 1 thought of ways to stamp out bulling and what they could do. They then made up a class recipe for friendship!
Year 3 have been learning how to be 'Anti-Bullying Super Heroes!' They have spent time learning about Billy... a little boy who just wouldn't stop bullying. Through this story and further discussion, they have learnt how to recognise what bullying looks and feels like and, importantly, what to do if they see someone being bullied. They then made their own 'Anti-Bullying Super heroes' to showcase what they had learnt. Well done Year 3!
Year 3 Visit Egypt (near Macclesfield!!)
Year 3 spent a lovely day at West Park Museum learning about Ancient Egypt. The children enjoyed dressing up and handling artefacts during the morning. In the afternoon they made fabulous Anubis masks using the technique of 'pointing'. A great day was had by all!
Toilet Refurbishment is complete!!
The new toilets are now open for children, staff and visitors. The new look toilets are brilliant and allow all children and adults to access the toilets whatever their age or mobility. The children absolutely love the colours (thanks to Jackie Burt - Site Manager - discussing various colour schemes with the children).
The toilet areas are now more inviting, safe and welcoming so helping to ensure the well-being of the children is maximised as they have less concerns in using the toilets and therefore drink more water during the day which ultimately will help them with their learning.
PTA Bonfire and Firework Display - an absolutely brilliant evening
All members of the PTA, especially the PTA Committee, should be absolutely delighted with the annual PTA Bonfire and Firework Display. It was extremely well attended and everyone enjoyed the huge bonfire and the amazing firework show. Many thanks to everyone who was involved in the planning, the actual evening and the clearing away afterwards.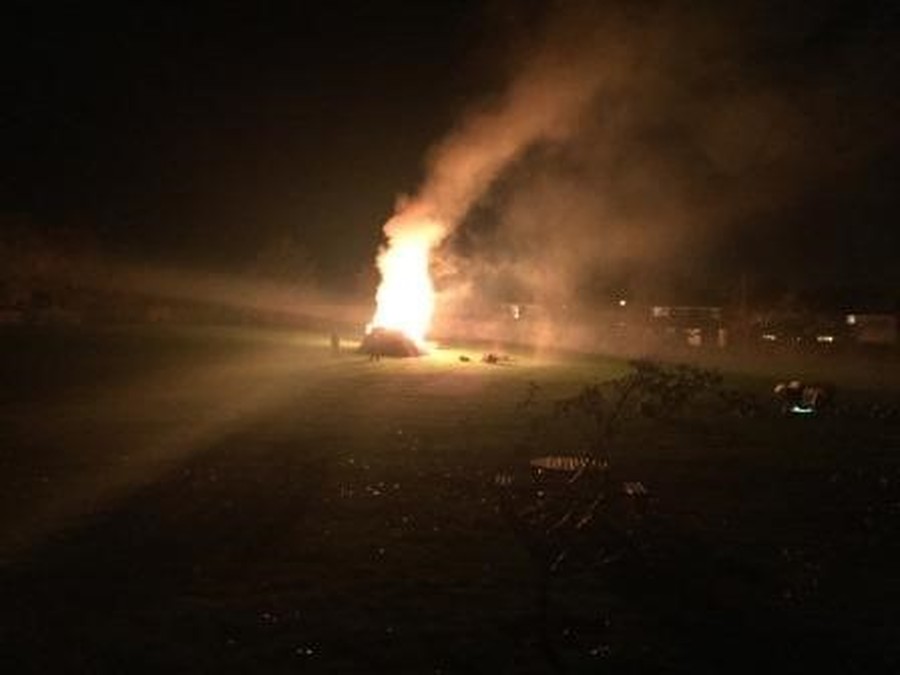 Year 6 Chocolatey Experience!
Year 6 launched their new topic all about Chocolate and Fair Trade with a super sweet Chocolate Experience with Oliver Dunn Chocolate Parties. Mr Dunn came into school and talked to the children about where chocolate comes from and how he makes his fantastic chocolate work. During the session the children decorated their own lollies and were able to take the tasty treat home.
Many thanks to Mr Dunn for giving up his time to speak to the children today.
Year 2 step back in time
Year 2 visited Staircase House in Stockport to re-enact the events of The Great Fire of London, which they are studying this half term.
They spent a busy morning taking on the roles of Samuel Pepys, King Charles II, their maids, and soldiers, still in role they then baked bread in Thomas Farriner's bakery and learnt how to form a bucket chain to help put out the fire.
The afternoon was spent building their own wattle and dub walls and creating their own cures and potions to ward off The Black Plague.
Year 5 - Learning to be Safe
Year 5 had an important safety talk today from Cheshire Fire and Rescue Service. Did you know if you don't have a smoke alarm in your home, the fire brigade will fit them for free!?! Just dial the fire station and not 999!