A fork full of pupils from our school Eco-Committee, 50 trees in a wheelbarrow, buckets full of trowels and spades and a large heap of enthusiasm...........
Last year, our Eco-monitors (pupils ranging from Year One to Year Six) applied to The Earth Restoration Charity for a donation of trees to help develop a butterfly/wild flower area on our school field. The charity contacted us in February to say our bid was successful and that they would provide us with 50 native British trees in March.
On Wednesday 23rd March our Eco-monitors, junior recycling officers and willing volunteers planted 50 trees in the corner of our school field. The children enjoyed identifying the tree saplings and were keen to plant them. They used canes to support each tree and protective cones to deter rabbits.
Well done to all involved. Everyone worked well together and it was good to see so many smiling faces once our gardening work was done!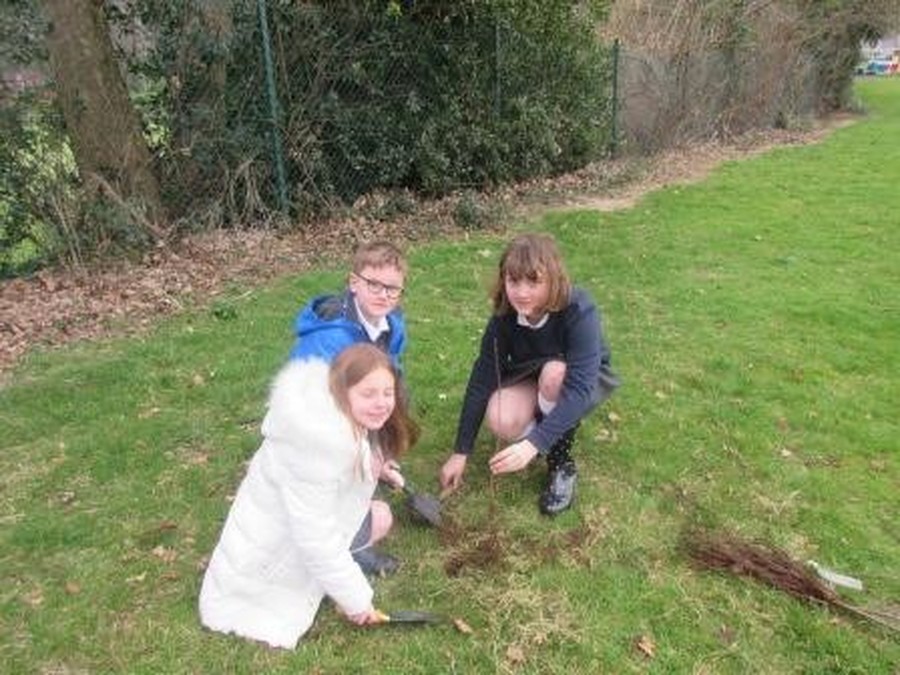 Year 5 tell the Easter Story
Year 5 retold the Christian Easter Story today for the whole school. Many children have been poorly so the cast kept changing and even today last minute actors stepped up to take on new parts! Elizabeth and Camilla wrote their own notes for the clarinet and flute to part of the Taize music!
Need help map reading?
Year 3 are here to help!!
Year 3 had an exciting morning orienteering around the school playground. They had to map read and solve clues ! The winning house team was Chorley! Well done.
Year 3 Strings Concert
The first group learning strings in Year 3 were proud to show off their new found skills to an appreciative audience of their parents and class mates. It was also lovely to hear the progression from children in Year 4 ,5 and 6 who had gone on to learn a string instrument. Great performance everyone and a big thank you to Mrs Aitkin!
PTA Easter Fair
What a brilliant day!! Everything was perfect from the delicious Indian food, pizzas and drinks to the face painting, stalls and Easter Egg Treasure Hunt. The weather was perfect too!! We would like to offer our thanks to everyone who helped before, during or after the Easter Fair - your support and help ensured that the event was a great fun and enjoyed by all. It also raised nearly £1000 - which is just fantastic too!!
Music Festival - March 2016
The photos below were taken at the rehearsal before the children performed in the evening in front of packed audience of parents from schools across the Wilmslow Area. Our children did a great job performing and singing together.
Sport Relief 2016
The children found different ways of covering a mile following the redline on the playground. Year 5 scooted and body boarded the red mile for sport relief today.
PTA Easter Fair Easter Egg Decoration Competition
Waitrose (Alderley Edge) have generously supported the PTA Easter Fair this year. Staff joined members of the PTA today to judge the Easter Egg Decoration Competition.
The staff found the selecting the winners very hard as the entries were so good but eventually they chose year group winners and an overall winner. The winners will be announced and prizes handed out at the Easter Fair which is on this Sunday 20th March from 2.30 - 4.30pm.
Netball Finals
The team played in the Wilmslow Netball Tournament Finals this week and competed well on the field but struggled, unfortunately, to hit the target as often as the number of shots they had on goal. As a result they lost three games and drew two. A good team spirit was maintained throughout - as you can see in the photos.
Year 3 Walk to but not over The Edge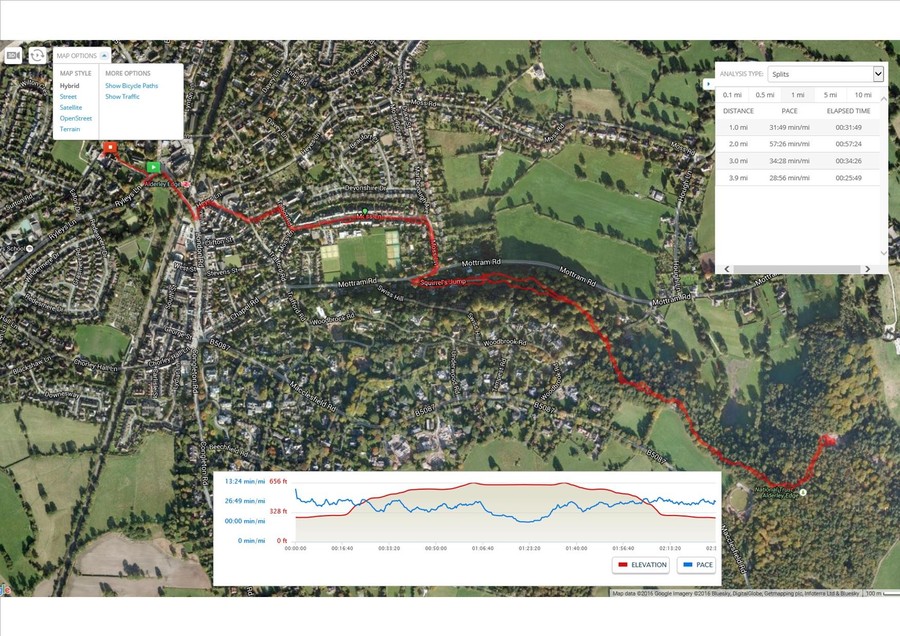 Year 3 have been studying rocks and soils in science and as part of this work and as part of their Geographical work they walked from school to The Edge to have a closer look at the different rock formations, types of soils and locate themselves on their maps. The weather was also absolutely perfect!!
Year 5 visit Cheadle Mosque
Year 5 enjoyed learning about different aspects of the Muslim faith today when they visited Cheadle Mosque. We received a warm welcome from the Imam himself and learnt about the 5 pillars of Islam, Arabic writing and lots of other interesting things.
Christian supports Max
Dear Friends
Can you spare the price of a cup of coffee, or a little more if you can, to help my little lad raise money for his friend?
I am doing a 40 mile bike ride with Christian (age 7), from Manchester to Liverpool. He is aiming to raise £1000 to help send his friend Max to the US for life-altering surgery.
Christian has been friends with Max since they met in day care when they were just 2 years old.
I am so proud of him for setting such an ambitious target, particularly as he'll have to ride the whole 40 miles with me offering my own unique form of encouragement!!
You can sponsor him via this website – 100% of any money that you can spare will go direct to Max => https://crowdfunding.justgiving.com/christian-smith-2
Thank you for anything you can spare.
Christian & Tony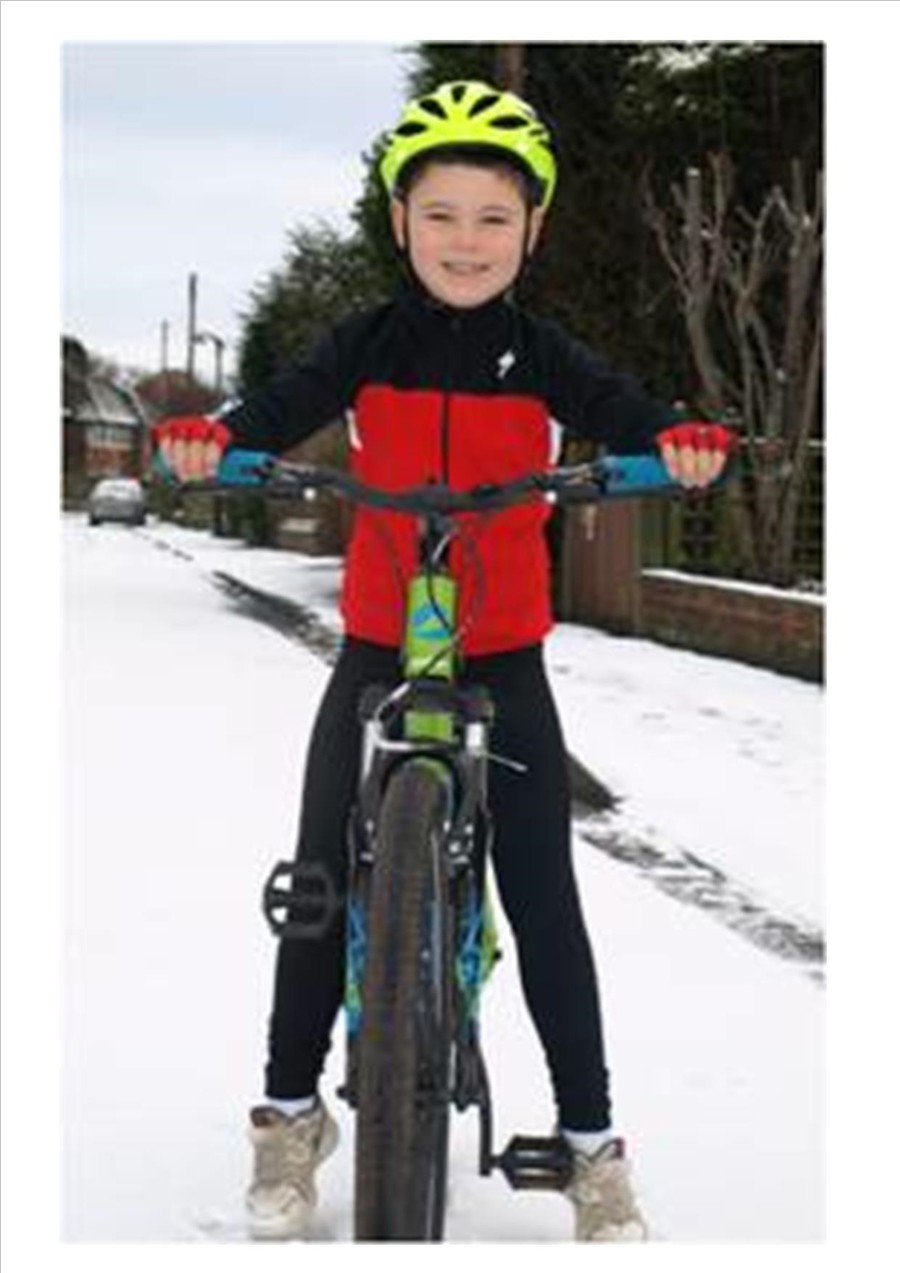 Year 2 visit the Storybarn at Calderstone Mansion, Liverpool
As part of World Book Day Year 2 visited The Storybarn at Calderstone Mansion, Liverpool. They spent the morning exploring an enormous Iron Man, floated off in a hot air balloon, met different characters from their favourite books, listened to and took part in shared reading, completed a huge Iron Man puzzle and finally created a collage meal for The Iron Man - phew!
Whilst there the Year 2 also got the chance to enter the Wonderful World of Oliver Jeffers, an exhibition that allowed the children to become became immersed in the interactive, life size pages of his most popular books The Long Way Home and How to Catch A Star.
World Book Day
Alderley Edge Community Primary School celebrated World Book Day by allowing the children (and staff) to dress as their favourite character from their favourite book. The children dressed as everything from Harry Potter and the Gruffalo to traditional characters such a Pippi Longstocking.
During the morning the children attended a whole school assembly led by Mr Perry (Headteacher) who explained what he loved about books and how very often the opening of a story is crucial to hook the reader in. During assembly Mr Perry also read Mick Inkpen's story 'Nothing'. The story is about a little creature who lies in the attic, alone and forgotten. It cannot even remember its own name. One day the attic door is flung open, and so begins Nothing's search to discover who he really is. This built on assemblies throughout the last few weeks about valuing things, valuing others and children valuing themselves. Mr Perry said, "The assembly went really well and the children seemed to absolutely love the story I read. Every child from 4 years of age to 11 years listened really well. The children also were totally engaged when we discussed what makes a great book."
Throughout the rest of the day the children got involved in activities linked to world book day which also included sharing their favourite books with their friends and older children reading with younger children. A fantastic day for everyone.
Year 1 step back in time
Year one went on a trip to Styal Mill and a very weather rich day!! They managed to experience many weather conditions .... snow, rain, hail and sunshine whilst there!!!
The children had a great time learning all about life as an apprentice, they are not sure that working for 12 hours, eating porridge out of their hand and using a chamber pot (and straw!!) are the best ways to live!
They much prefer life in 2016!!
Year 3 had the rocks sorted!!
Year 3 had to solve the problem - How to sort our bag of rocks and sand? They came up with some interesting ideas! We were able to sieve the rocks to sort them into size!
Year 4 have been busy
The children have all designed, made and baked jam tarts. In science the children have been testing the temperature of ice when it freezes and finally you can see that the Year 4 have definitely GOT Talent!!
Year 5 learn to be Safe on the Roads
Year 5 took part in a road safety presentation by the Fire Brigade this week. There was an interactive quiz and lots of role play!