Grand Designs
Maple Leaf Designs have started work on the much needed and soon to be much improved outdoor learning area for the Reception Class. Most of the ground works are now complete and should be completed for when the children return on 13th June.
New reception learning/play area is now completed...
Year 3 and 4 really have 'made a difference'
The Y3 and 4 wanted to improve the climbing wall so they have worked together and raised approx. £140 which was doubled by the school so they have a grand total of £280 to spend. Year 3/4 worked with Jackie to organise a builder to improve the climbing wall. The wall is now completed and as you can see in the pictures below is much improved.
Year 2 Welly Walk
The Year 2s went on their second Welly Walk this afternoon to the allotments on Chorley Hall Lane. They were able to stroke the chickens, handle freshly laid eggs, and found out all about the different types of fruit and vegetables that were being grown on the allotments. The Year 2s are now very keen to have their own allotment. A big thank you to Fenton from the Year 2s for giving up his time to show us around.
Year 5
Year 5 today completed the orienteering course at Forest Camp. Some of these included scrambling through brambles, avoiding hidden bogs and balancing over narrow bridges! A great day was had by all.
Year 2 are stress free - thanks to yoga
The Year 2s enjoyed a relaxing, stress free session of yoga this morning. They learnt the yoga positions, the sun and the tree, they also had to focus, sit correctly and learn how to relax. A much needed session after the busy weeks they have had.
Year 6 Leave for a Week of Adventure in Wales
All packed and ready to head off to Pensarn in Wales for a full week of activities from rock climbing to gorge walking. Looking at the size of some of the bags it looks like they are off for 5 weeks not 5 days!!
Throughout the week we hope to update this page with photos of their fun. Watch this space.
Alderley Edge May Fair
Children, parents and staff joined the Alderley Edge May Fair Parade with many dressing in costume. Laura was chosen as the May Queen along with Merlina and Erin. They all looked fabulous.
PTA Sponsored Bales Race
What a brilliant event!! The PTA organised the annual Sponsored Bales Race which was enjoyed by all the children who showed great grit and determination to complete the course with younger children completing between 5 and 7 laps whilst the junior had to complete 10 laps!! The photos show the great effort being out in by all the children.
Many thanks to the PTA for organising this event.
Year 4 choose - An Old Fashioned Sports Day
Year 4 have been working hard to earn their 3rd class award of the year. They reached 70 tokens and decided they would like an old fashioned sports day. Here are some photographs that captured the afternoon.
Kwik Cricket report
With what looked like a lovely day ahead, the cricket team marched into their first match against St Anne's. Trying to start positively with a win, they bowled and batted with confidence; the match ended up with a deserved win.
The second game proved trickier – a lot trickier! Starting off trying to set a score by batting, sadly the pace of Ashdene's bowling was a little too much. No player shied away from the challenge; they all gave it their best shot.
The team needed a win if they were going to have a chance of going through to the finals. With the game very tight, Gorsey Bank needed 14 to win off the last over. Everyone had to make sure that there were no mistakes in the fielding; it paid off with a four run victory.
Unfortunately there was no semi-final or final: the good weather at the start didn`t hold. Instead the top three teams go through and we will meet Ashdene and Lindow again in the next round.
Report by Ben Hamilton-Ryan (Year 6)
Year 5 Make a Difference
Year 5 today completed their Class Council target of making and selling popcorn. They raised a grand total of £88.38 which will go towards buying a book shed for the quiet area.
Reception Children make Magic Potions
This week the children in Reception have been exploring capacity by making magic potions! The children measured out cups of "Witches Water", "Dragons Blood", "Fairy Wishes" and "Frog Juice" to mix together and decide which cup had the most potions and put them into order. The children had to be VERY careful with each potion - luckily.....nobody was turned into a frog. Yet!!!
Year 4 French
Mrs Yardley (Wilmslow High School teacher) has been working with and teaching Year 4 all year and their French has improved massively. Their work is displayed in the picture below and can be seen in the Lavender Suite at the end of main corridor in school.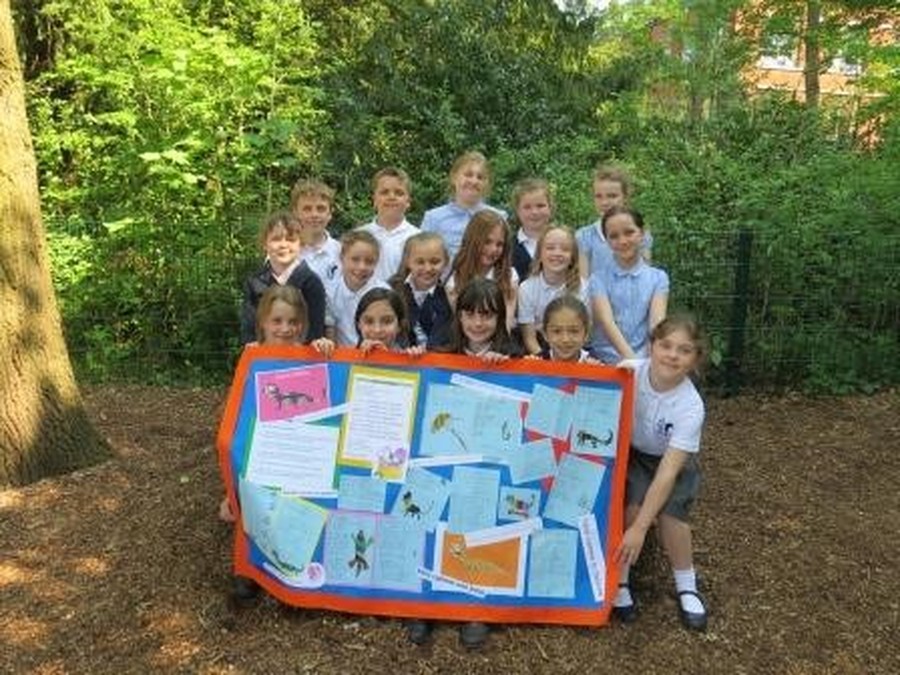 Alderley Edge Music and Drama Festival 2016
This year many children from Year 4 and some from Year 6 took part in the Drama element of the festival. There were so many entrants that the children were split between 6 classes. The children spent months learning and perfecting their poems, giving very convincing performances. Jack Everett, Polly Thorp and Laura Maclean took joint 3rd place in one of the Year 4 classes. Mrs Roberts said, "I am so proud of all the children; it is very daunting standing up in front of so many people and performing. They were brilliant!"
Year 2 Welly Walk
Year 2 went on the first of their 'Welly Walks' on Wednesday afternoon. They were comparing and contrasting their locality with that of the character Pippa from the book 'Where My Wellies Take Me' by Claire and Michael Morpurgo.
Where will they go next?
Tennis Tournament
Great effort by all the boys and girls. They finished a very creditable third and the pictures show the team sporting their bronze medals! Well done!!
Whole School Art Project
Under the guidance of Heather Penn the Year 6 children created another element to the whole school art work. I think you will agree that our new characters are fantastic!!
Tri Golf
The tri golf team came 4th out of 6 in the golf. The first 3 schools go through to the final and we missed out by 12 points! Not much when you consider the team scored 469 points in total.
They all had to do 8 different events involving chipping and putting skills and they scored points depending on their accuracy. A couple of them even chipped the ball up onto the balcony where people were eating..........as you can imagine the members sitting up there weren't too pleased!!
Cross Country - An amazing set of results
Alderley Edge Community Primary competed brilliantly and achieved great things as individuals and as a team.

The results in the races were...

- 1st for Poppy Schneider in the Year 3/4 Girls
- 1st for Jack Everett in the Year 3/4 Boys
- 3rd for Charlie Wall in the Year 3/4 Boys
- 1st for Ben Hamilton-Ryan in the Year 5/6 Boys (by a huge margin!!)
- 2nd for Olivia Lloyd-Jones in the Year 5/6 Girls
- 3rd for Darcey Walowsky-Stagg

Finally, the Year 3/4 boys' team won the team trophy. Well done to everyone who took part and especially to the support from parents and Mrs Clee (PE Teacher).
Year 3/4 Cricket
Match report by Ben Hamilton-Ryan (Year 6) who also supported and guided the younger children during the matches with Sam Mullins

After all the rain, the sun came out for an afternoon of Kwik Cricket at Lindow Cricket Club for years 3 and 4. Unfortunately they lost to Ashdene in the first match as they were trying to get used to the different rules. In the second match however, the team played really well and managed to win against Wilmslow Grange. Sadly, because they hadn't won both of their games, the team weren't able to make the final so a friendly was organised between Alderley and Wilmslow Grange. Trying to keep their record of not losing to Wilmslow Grange, they kept bowling and batting well and in the end it paid off with another win
Year 3 visit the Gita Bhavin Hindu Temple in Manchester
Year 3 had an exciting morning travelling into Manchester to visit the Gita Bhavin Hindu Temple. They learnt about the origin of Hinduism and looked around the Temple and learnt about all the important symbols. They even learnt how to meditate!! All the children were very well behaved and asked some interesting questions.
School Choir
The choir, under the expert direction of Miss Rose and Mrs Oduah, came second in the Alderley Edge Music Festival Choir competition. Well done to the children who performed brilliantly and made us very proud of them.
Year 2 Residential - Day 2
The Year 2 children continued to face cold and wet weather but it didn't stop the fun and learning. They enjoyed archery, the low ropes course and learnt to read maps during an orienteering session. No one got lost and they all made it back for lunchtime - it was good to get inside and away from the rain!!
Year 2 Residential - Day 1
The Year 2 children faced cold and wet weather but it certainly didn't dampen their spirits. They have had a great day and are now all tucked up in bed to get some rest before day 2 starts.
Year 2 Residential - they are on their way!!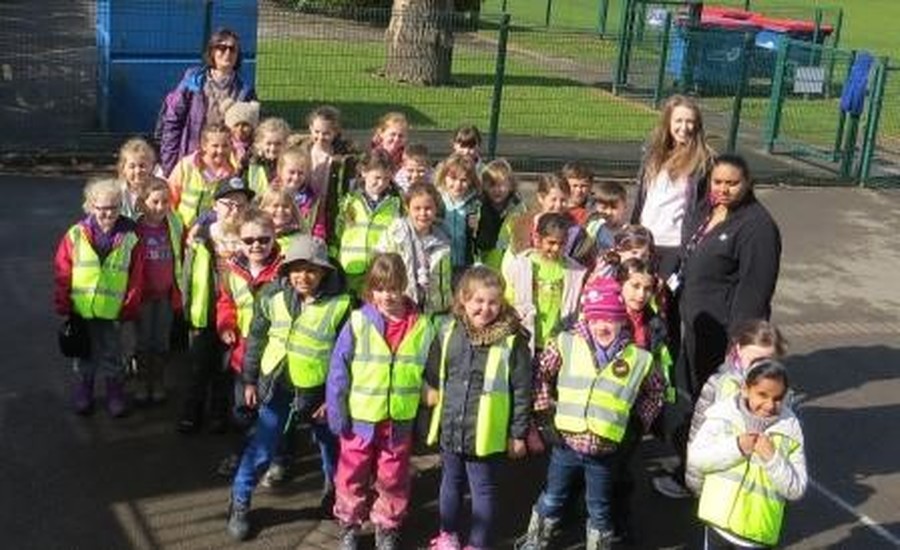 Year 5 Bikeability
Year 5 completed Level 1 Bikeability training in the glorious sunshine! They now know how to fit a helmet correctly, do an ABC bike check and to cycle slowly with control.
Lost Duckling
A little duckling lost its way on the field today we desperately tried to get it back to its mother and siblings. We had to keep putting it in the bushes so it didn't get trod on. The children were very good and all stood still and switched their voices off while we tried in vain to repatriate the duckling. We managed to get it to stay in the hedges where the mother was so fingers crossed its now back safely with its mum and siblings.
Year 5 Art
Here are some photos of year 5 making the loom frames, painting and then weaving. We can't wait to see these up and in use when the whole school art project is completed!
Year 3 Art
With the help of school mum Mrs Penn, Year 3 had a very exciting and productive afternoon making recycled flower heads ready for our whole school playground art project this summer term. There were lots of interesting ideas and concentration was necessary when attaching all the parts!!
Year 5 Summer Term starts with Science
Year 5 were predicting the absorbancy of different papers. Paper was secured to a ruler, making sure they were the same length and width, then dipped in water to see which soaked up (absorbed) the most. The new bathroom certainly proved a useful site to experiment in.